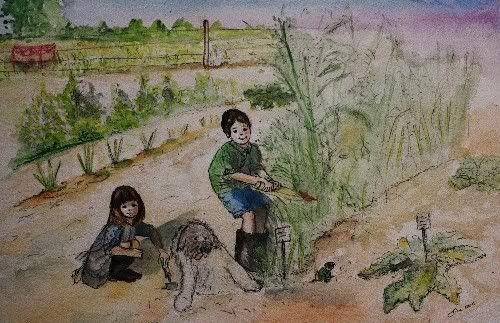 These past few weeks the children and I have been working in both flower and vegetable garden. We have a wonderful asparagus bed that is 16 years old . This is the first thing that we harvest after the winter is over. we love the asparagus but I love even more now because I drink a "green shake" every day and I have been drinking the raw asparagus too... I know , I know, you are probably making a "face" now but wait... I did not tell you that LOTS of fresh strawberries are added to this shake and technically is not totally *green*!*grin*
I also have been going through buckets and buckets of pictures of my children. They are such inspiration to me and my illustrations.....grin!
The one below is Becca and Josh at our garden.... I am making several illustrations based on this year harvest because I found so many wonderful pictures that immediately made me want to draw.
I was "lost" in smiles while I was painting and looking at the pictures... I added our sheepdog Mattie in which seems to be the only one that found out a little visitor.... well, let's don't tell Becca....shhh.... she is scared of frogs until this day!*grin*